Dark Oz
is an Adelaide based publishing and graphic design company, publishing a growing line of uniquely Australian comic books. The flagship comic book is DECAY, a horror anthology showcasing many of Australia's best established and new independent creators. Issue 7 is now available and features my cover art 'Invoke the Reaper'.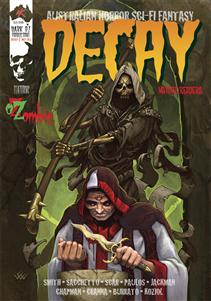 If you wanna see the artwork without all the trade dressing you can find it at
DeviantArt
or on my
website
.
I also have a couple of small black and white pieces in Decay called 'hosts' which introduce the stories within the issue. First up is 'HeadCase' who appeared in issue #5...
and PinCushion who will appear in upcoming issue #8
If you still want more Decay, I also have a short comic called 'Strange Alchemy' written by Darren Koziol in progress which will be included in a future issue (once I get it finished!). You can see the first page here. Also look out for future cover art from me as I am keen to be involved and support this great project :)
Thanks for reading, and please if you enjoy seeing my art then follow the blog or check me out on Twitter
@LeethalSmith
.